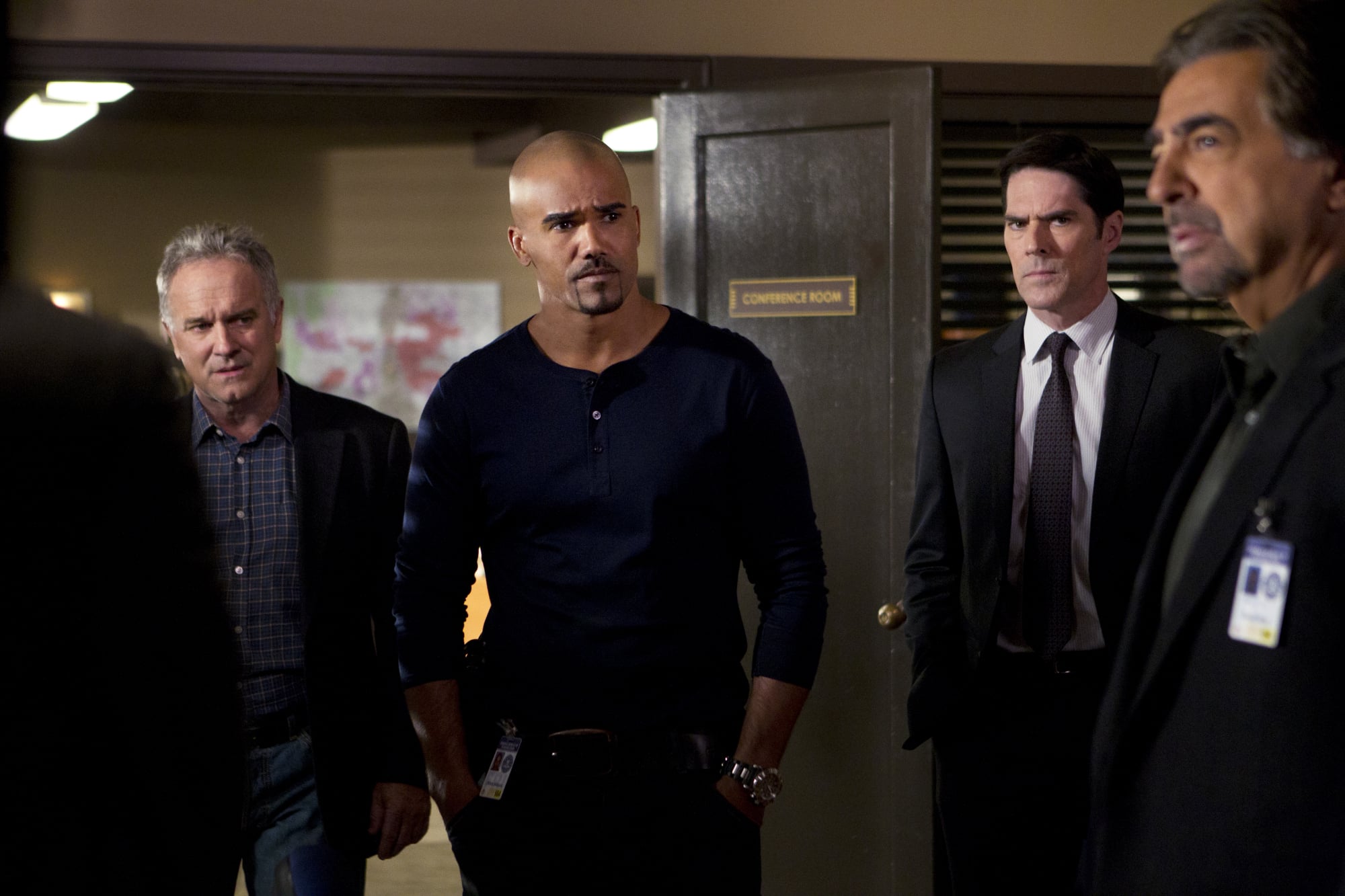 We know that Criminal Minds is returning soon for its 15th and final season. We know that — based on the cast photos shot for the July/August issue of CBS's Watch! Magazine — all of our favorite series vets will be reprising their roles, including David Rossi (Joe Mantegna), Spencer Reid (Matthew Gray Gubler), Emily Prentiss (Paget Brewster), Jennifer "J.J." Jareau (A.J. Cook), Penelope Garcia (Kirsten Vangsness), Tara Lewis (Aisha Tyler), Luke Alvez (Adam Rodriguez), and Matt Simmons (Daniel Henney). We even know that Hallmark Channel star Rachael Leigh Cook will be joining the cast as Spencer Reid's love interest, Max, and that <a class="sugar-inline-link ga-track" title="Latest photos and news for Jane Lynch" href="https://www.popsugar.com/Jane-Lynch" target="_blank" data-ga-category="Related" data-ga-label="https://www.popsugar.com/Jane-Lynch" data-ga-action=" Links">Jane Lynch is set to make an appearance this season as Reid's mother, Diana.
But there's one question still on everyone's mind: can we expect to see the return of Shemar Moore, who played sexy Supervisory Special Agent Derek Morgan up until season 11? As you might recall, Derek decided to leave the BAU after surviving a kidnapping to spend more time with his family. In a letter to Criminal Minds fans back in 2016, executive producer Erica Messer explained that Moore decided after 11 seasons that it was time "to leap" and "to try new things," which we totally get — he did appear in 250 episodes, after all. Now that the show is in its final season, will Moore return for one last hurrah as Derek?
In a January 2019 interview with Deadline, Messer spoke about the possibility of including old favorites in the final season. "I am very hopeful that we can honor all of those characters who have been beloved and with this team, with the audience for years," she said, though she didn't reveal any more than that. Moore hasn't said anything about the possibility of returning recently, but he did tell TV Guide in 2017 that he was open to reprising his role. "Erica Messer refused to kill Derek Morgan," he said. "Those elevator doors closed. Am I going to sign a long-term contract? Probably not. But if they ask me to come back and dance, yes, I would be willing to do that. [But] not right away." Don't tease us like that, Shemar!
In February 2019, after longtime cast member Kristoff St. John from The Young and the Restless passed away, Moore returned to reprise his role as Malcolm Winters in order to pay tribute to the late actor. Though that doesn't necessarily mean that we can expect to see the return of Derek, it does indicate that Moore is willing to reprise his roles. Here's hoping that we'll hear one last "baby girl" before the series ends for good.