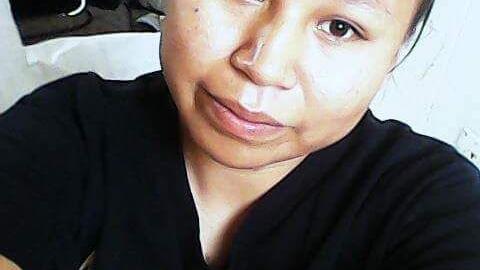 Even though two people have pleaded guilty in the murder of Emily Bluebird, it remains unclear which one was truly responsible for choking the 24-year-old to death and should get a much harsher prison sentence.
Despite the fact a man and a woman both have pleaded guilty to charges related to the crime, the matter of who actually killed her, and who only participated as an accessory, remains unclear. And the resulting uncertainty — which the judge said he has never seen in his 40 years in the legal system — has thrown a wrench into what had appeared to be an open-and-shut criminal case and sentencing.
Each of the two defendants, Elizabeth LeBeau and Fred Quiver, has accused the other of strangling Bluebird while the three of them were drinking at a Pine Ridge home on or around Jan. 2, 2016. Bluebird's body was found near a creek on the reservation on Jan. 21.
What makes this federal case stand out is that the government has affirmed both defendants' account of Bluebird's murder — both of which cannot possibly be true.
"Throughout history, co-defendants have frequently pointed their fingers and accused other people …. Nothing unusual at all about that," Dana Hanna, the lawyer for LeBeau, said in a hearing last month.
"What is very unusual in this case is that the government has affirmed to the court and to the defendant that both of these defendants are telling the truth."
LeBeau, 24, pleaded guilty in March to second-degree murder. In the statement of facts that accompanied her plea deal with federal prosecutors, LeBeau said her then live-in boyfriend, Quiver, strangled Bluebird with an electronics cord while she held down Bluebird's hands at his command.
The incident, she said, followed an argument between Bluebird and Quiver while they were drinking at the couple's home on Pine Ridge.
Later the same month, Quiver, 31, pleaded guilty to being an accessory to second-degree murder. In his statement of facts, he said LeBeau stranged Bluebird with an electronics cord after the women got into an argument.
Quiver said he tried to intervene once, without success. He and Bluebird grew up together and were friends, according to court records.
The defendants' sentencing hearings, originally scheduled for June, were postponed after LeBeau's lawyer called the court's attention to their contradictory statements that were both validated by the U.S. Attorney's Office.
Hanna's main concern, he said in a June 14 hearing called by District Court Chief Judge Jeffrey Viken, is how the statements would shape LeBeau's prison sentence.
She can be sentenced to up to life in prison for murder, whereas Quiver faces a maximum of 15 years for being an accessory to murder. Both were originally charged with first-degree murder, which carries a mandatory life sentence.
According to the hearing transcript, Hanna said he would ask the court at LeBeau's upcoming sentencing for a prison term of no more than 15 years. LeBeau's plea agreement with the government establishes her playing a secondary role in Bluebird's murder, Hanna said, so his client should not get a sentence longer than Quiver's.
The defense lawyer said he would introduce psychological evidence that LeBeau has a long history of mental illness, including depression and post-traumatic stress disorder, which made her "more vulnerable to Mr. Quiver's command."
Hanna added that Quiver's pre-sentence report mentioned him being previously "found guilty" of choking a man and a woman.
"If we had to argue who did what, we would be in a position to do that. But I didn't think I was going to have to do that," he said at the hearing, also attended by LeBeau, Quiver, Quiver's lawyer and two assistant U.S. attorneys. "I thought we had an agreement as to what the facts are …. Fred Quiver did the choking."
During the hourlong hearing, Judge Viken said the issue was the first of its kind he has encountered in his experience as a federal prosecutor, federal public defender, private criminal defense lawyer and judge.
"I have never seen anything like this in 40 years," he said. "I am really trying to sort this out."
Viken underscored the concepts at the heart of federal criminal prosecution: the search for truth and the quest for justice for crime victims.
When he asked Supervisory Assistant U.S. Attorney Gregg Peterman who killed Bluebird, the prosecutor said both LeBeau and Quiver committed the crime.
Both defendants were very drunk when the killing happened, Peterman said, and their statements showed how they believed events unfolded.
Viken said the defendants' accounts cannot both be true and that jury trials exist to settle facts in dispute.
"If I accept Ms. LeBeau's factual basis statement as true and correct, how can I sentence Mr. Quiver for accessory to second-degree murder?" he said. "'Quiver wrapped the cord around Emily's neck and pulled her back' and so on, 'until Quiver stopped choking Emily when she stopped moving.' That's not accessory to second-degree murder."
The judge said he would make a ruling after considering the available options. One is to invalidate LeBeau's and Quiver's plea agreements and schedule them for trial. Another is for one or both defendants to withdraw their guilty pleas. The third is to accept the pleas and move forward with sentencing.
Peterman asked the court to accept the pleas by giving more weight to the similarities in the defendants' accounts. The facts they agreed on include the following: An argument preceded Bluebird's murder, Bluebird was strangled with a cord till she became unconscious, LeBeau hit her on the head with a hammer, the two defendants hid Bluebird's body, then left it in a shallow grave near a creek.
Both LeBeau and Quiver said they did not want to withdraw their pleas.
It is not clear when Viken will issue his ruling.
Meanwhile, Bluebird's family said they have faith that the judge will make the right decision.
Carla Cheyenne, Bluebird's aunt, said the family is "content" with how the case has progressed and believes one defendant's account over the other. She declined to say which.
"As a family, we know in our heart what is true and what isn't, because Emily knew one of them all her life," Cheyenne said.