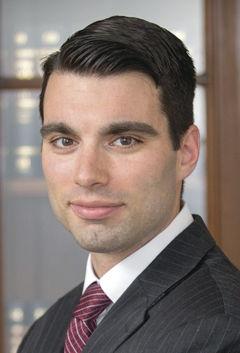 LYONS — An attorney with the Villani & Grow law firm wants to be Wayne County's top prosecutor.
Following his recent endorsement by the county Republican Committee, David Fulvio told the Times on Friday that he is running for district attorney. That sets up an expected primary showdown in September with another Republican, Acting District Attorney Chris Bokelman.
"I am devoted to Wayne County and devoted to the law. That is one of the reasons I am running," Fulvio said. "Members of the committee really put in the time to vet the acting DA and myself, not only about the past but what we see for the future of the district attorney's office. I am privileged and honored to have their support."
Fulvio, who grew up in West Orange, NJ., has an undergraduate degree from Rutgers University and earned his law degree in 2011 from the Boston University School of Law. It was there that he met his future wife, Erin Hammond, a Macedon native who is now the assistant Wayne County attorney.
"Our intention was always to come back to Wayne County," he said. "My wife always wanted to be around the hard-working people of this county and we felt this would be a good place to start a family."
Fulvio, 30, began working for Villani & Grow — which has offices in Lyons and Williamson — shortly after getting his law degree and passing the bar exam. He specializes in civil litigation.
"I believe the district attorney's office truly needs to be a Wayne County office. I also believe we need district attorneys who have a stake in the community they are representing," said Fulvio, adding that some of the felony prosecutors in the DA's office do not live in the county, which he said is a violation of public officer's law. "It's important that we have a DA's office that is compliant with the law. If we can't count on a district attorney's office to follow the law, who can we count on?"
Fulvio also pointed to statistics from the state Division of Criminal Justice Services that show Wayne County's conviction rate in 2015 was 34.3 percent for adult non-youthful offender felony arrests, while 35.2 percent were convicted of misdemeanors. He added that the felony conviction rate in Ontario County was 63 percent.
"Therefore, if arrested for a felony in Wayne County, you are more likely to be convicted of a misdemeanor than a felony," he said.
Fulvio added that if elected, he will push for more jury trials. He said there were three in both 2015 and 2016, and none so far this year.
"That is far below the state average. That is fine if we are getting favorable plea deals, but we aren't," he said. "You want a just outcome for the victim. If you can get a just outcome through a plea deal, fine. If you can't, you should try the case."
Fulvio also believes the line of communication between the DA's office and crime victims could be improved.
"There seems to be a disconnect between the two. If I am elected, I will have a direct line between victims and prosecutors handling their cases," he said.
Fulvio, who said he will soon be 31, lives in Macedon. While he admitted having limited criminal law experience, he said he has tried many civil cases — in Wayne and nearby counties — in state Supreme Court.
"Thousands, sometimes millions of dollars are at stake in these trials. I believe the skills for prosecuting criminal cases and doing civil litigation are almost the same, with a slightly different set of rules," he said. "I understand people may not know about my experience, so I will be knocking on many doors and talking to many people."
Bokelman announced in February that he was running for district attorney. He was named acting DA in December by then District Attorney Rick Healy, who is now a county judge.