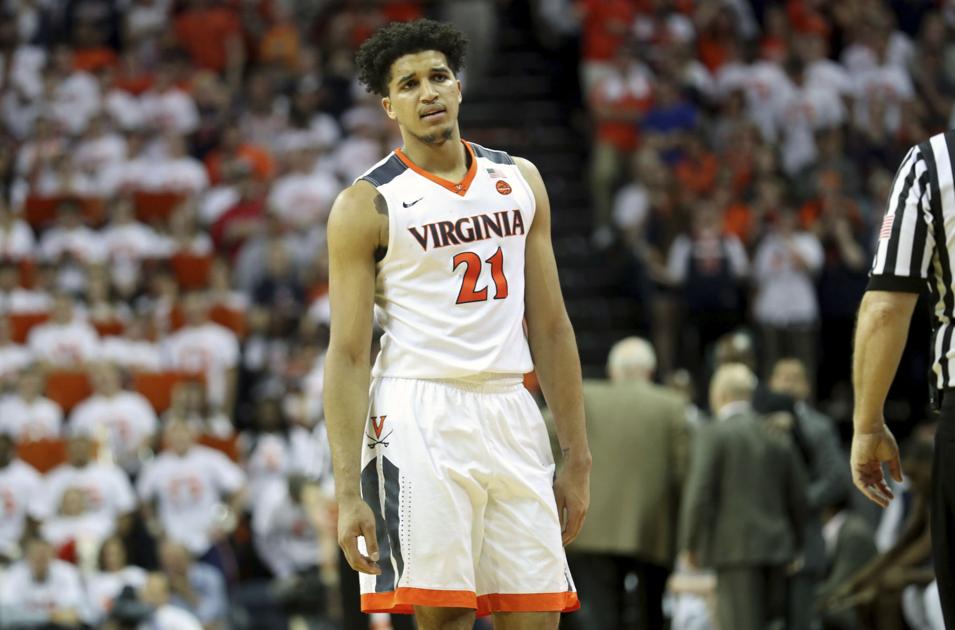 #ndn-video-player-1.ndn_embedded .ndn_floatContainer margin-top: 10px; margin-bottom: 20px; #ndn-video-player-2.ndn_embedded .ndn_floatContainer margin-top: 10px; margin-bottom: 20px;
NEW YORK — Live from New York, it's Wednesday … and then it's Thursday … and then it's Friday … and then it's Saturday night!
When Virginia clinched the No. 6 seed in the ACC Tournament last weekend, the Cavaliers assured themselves a favorable path to the championship — but also a late one.
UVa, despite being the lower seed, was in fact a favorite to beat No. 3 Notre Dame in Thursday night's quarterfinals at the Barclays Center. The Cavaliers entered on a 10-game winning streak over the Fighting Irish.
Virginia reached this stage of the event after it topped Pittsburgh for the second time in five days, Wednesday.
Both games tipped after 9 p.m. The clash with the Panthers didn't get started until 9:50 p.m.
Friday's semifinal won't be any earlier. Saturday's championship is scheduled for a 9 p.m. start on ESPN.
It all begs the question: What do the Cavaliers do all day?
"Sleep," junior forward Isaiah Wilkins said following the Pitt win. "I watch 'Criminal Minds' and sleep."
Senior point guard London Perrantes has been through the rigors of four ACC Tournaments now, appearing in 10 games.
Perhaps he appreciates the added hours off his feet.
"Obviously this is the first time, if we win all our games, we play four games [in four days]," Perrantes said Wednesday. "I just know it's going to be a grind, just trying to get as much rest as I can in between games, just trying to take care of my body.
"I'm just trying to get all these guys on the same page."
The effort doesn't seem overly trying for Wilkins. Give the team's leading rebounder a bed and a popular crime drama to view.
"The show's so good, man," Wilkins said. "Time goes by so fast. I'm watching like seven a day."
Boeheim vs. Greensboro continues
The firestorm Syracuse coach Jim Boeheim started Wednesday with his choice words for a longtime ACC Tournament host city gained more legs Thursday.
The Greensboro Grasshoppers, the Class A affiliate of the Miami Marlins, announced the club will be celebrating "Jim Boeheim (No) Value Night" at their ballpark.
All fans with a valid Syracuse, New York, driver's license will be given a free ticket and $20 in food and beverage.
"Contrary to what Jim Boeheim thinks," team president and general manager Donald Moore said in a press release, "Greensboro is a great place and we want to show off our city, our ballpark and our southern hospitality to our friends from Syracuse. We know that not all of them are whiners and grouches like their basketball coach."
Following the Orange's loss to Miami on Wednesday, Boeheim said the ACC Tournament should only be played in New York, Washington or Atlanta — and that there's no value in having it in Greensboro, its traditional home.
"We may invite the coach to attend, although his presence will bring us no value, none," Moore continued. "I suspect he may already have plans to be at a game in New York, Washington, or Atlanta that evening and unable to come."
Louisville coach Rick Pitino, a native New Yorker, was asked Thursday following the Cardinals' loss to Duke about this tournament's change in location.
"The whole thing is for the fans," Pitino said. "They don't have Final Fours in towns where the fans can enjoy themselves. A dome is a dome.
"It's for the fans, and obviously Jim meant to say that [laughter]. But after a loss we say things we regret later. It really is for the fans. New York is great for the fans. D.C. is great for the fans and so on.
"Greensboro was great for an eight-team league on Tobacco Road where all the teams are from. They gather together, and it's one big happy fraternity. But now we've got them out of the fraternity, it needs to be a good environment, and this certainly is a good environment."
North Carolina coach Roy Williams noted Thursday he once played golf with Boeheim to illustrate his point on the matter.
"He thought [a putt] was going to break left," Williams said, "and then it broke right. So every now and then he makes a mistake, too. It's OK. He can have that opinion. I'm fine with that.
"I like the fact we move it around, and I love being here in New York. I loved being in D.C. last year. And the next time we go to Greensboro, I'll love being in Greensboro."
#ndn-video-player-3.ndn_embedded .ndn_floatContainer margin-top: 10px; margin-bottom: 20px;