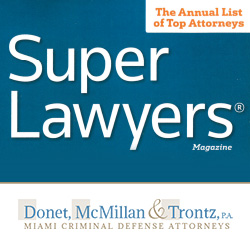 To be recognized by my peers and included as a super lawyer in Super Lawyer Magazine is something I am very proud of.
MIAMI (PRWEB)
August 07, 2018
Donet, McMillan & Trontz , PA is a criminal defense law firm with over 50 years' experience behind them. The firm has provided trusted legal counsel to its clients in Miami and south Florida for decades, with a high rate of success. Together and individually, David A. Donet, Jr., Larry T. McMillan, and David M. Trontz have received countless awards and accolades for their superior service in the state of Florida. The awards are a testament to their high level of professionalism, their dedication to the field of law, and their commitment to excellence and a right to defense they bring their clients.
Recently, Larry T. McMillan, one-third of this aggressive criminal defense team, was announced as one of the super lawyers of 2018 by Super Lawyers Magazine. Each year Super Lawyers chooses attorneys from a number of law firms of all sizes from more than 70 areas in the United States. The aim is to showcase attorneys who have demonstrated a commitment to their field and to their clients. Candidates for this esteemed title are nominated by peers and put through a stringent process to ensure the nominees meet the criteria necessary to receive the recognition and title. "It's a great honor to be a part of this," says Larry. "To be recognized by my peers and included as a super lawyer in Super Lawyer Magazine is something I am very proud of."
The selection and verification process for super lawyers is intensive. A research team led by top-level attorneys searches for those candidates who have received honors, positive legal results, or credentials that display a high level of peer recognition and superior competence. Super Lawyers searches for those attorneys who are the best at what they do, who display commitment to serving their clients, and who uphold all the values expected of them.
Larry T. McMillan has achieved the Super Lawyers 2018 recognition because he, along with his associates, believes in the law and providing the best defense for their clients. The firm's passion for law and their commitment to providing the best legal defense for their clients is what makes them outstanding. Larry's Super Lawyer recognition is another example of that commitment to excellence, McMillan is proud to have received the super lawyer honor and will continue to demonstrate those core values and the professionalism that has always been at the heart of Donet, McMillan & Trontz , PA.
For more information about the attorneys at Donet, McMillan and Trontz PA and the services they offer visit their website http://www.dmt-law.com or call (305) 396-3982.
Share article on social media or email: