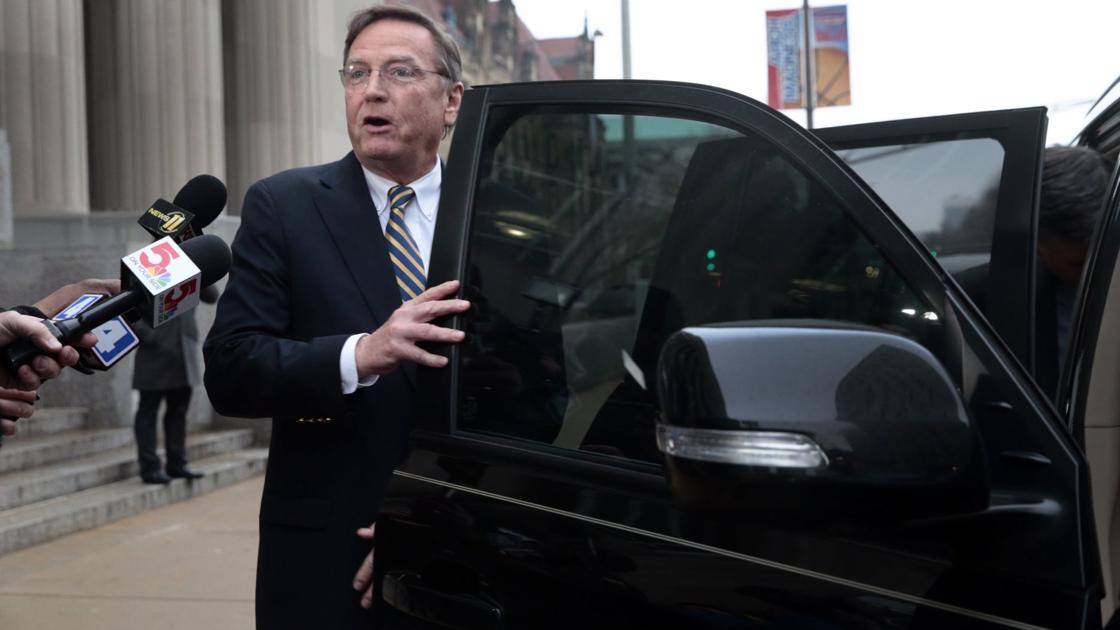 #ndn-video-player-1.ndn_embedded .ndn_floatContainer margin-top: 10px; margin-bottom: 20px; #ndn-video-player-2.ndn_embedded .ndn_floatContainer margin-top: 10px; margin-bottom: 20px;
Updated at 6:40 p.m. with comment from spokeswoman for Circuit Attorney Kim Gardner.
ST. LOUIS • Defense lawyers for Missouri Gov. Eric Greitens asked a judge Thursday to order prosecutors to disclose any threats or promises made to get Greitens' former lover to cooperate with a criminal investigation of him.
In the defense motion, lawyers say that the woman and other witnesses did not file a criminal complaint on their own, and were "initially uncooperative with media inquiries." (The woman has never agreed to media interviews and has asked for privacy.)
From Greitens' initial statement to the release of the indictment, read the Post-Dispatch coverage of the governor's scandal.
They speculate that the same witnesses "were likely similarly reluctant to fully participate in the Circuit Attorney's investigation of this matter."
"On information and belief, there is reason to believe that in fact offers of leniency and / or warnings of possible criminal charges or adverse action against the witnesses," they continue, adding that such threats or promises could constitute "powerful exculpatory … information," to which Greitens is entitled. It could also be used to impeach the witnesses, they say.
Susan Ryan, a spokeswoman for Circuit Attorney Kim Gardner, said in a statement Thursday night: "These are baseless and false allegations in another attempt to direct people's attention away from the facts of the case. We believe the citizens of this community are too smart to believe these outrageous defense claims and fall for these sophomoric antics."
Albert Watkins, the lawyer for the woman's ex-husband, said his client has been fully cooperative with law enforcement, including prosecutors, and has not been intimidated. He has also not sought or received any special favors, he said.
Watkins said Greitens' lawyers are obligated to mount "a vigorous defense" of their client.
A prior defense motion complained about Circuit Attorney Kim Gardner's use of a private investigative firm based in Michigan, saying they feared prosecutors wouldn't turn over evidence from the firm.
Assistant Circuit Attorney Rachel Smith denied the defense claim in court Tuesday and said prosecutors will comply with the rules for turning over evidence.
Greitens' lawyers have also sought to dismiss the indictment that charged him with invasion of privacy, claiming Greitens' former lover had no expectation of privacy during a consensual sexual encounter.
Prosecutors say a judge can't consider facts not in the indictment when considering whether to dismiss it, and said defense lawyers were making "unsupported claims" of consensual sexual activity.
Greitens is accused of taking a non-consensual photo of his partly nude lover and threatening to release the photo if she mentioned his name. Greitens has denied blackmailing the woman.
#ndn-video-player-3.ndn_embedded .ndn_floatContainer margin-top: 10px; margin-bottom: 20px;