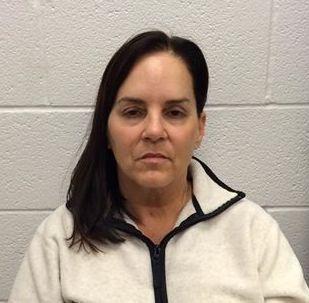 #ndn-video-player-1.ndn_embedded .ndn_floatContainer margin-top: 10px; margin-bottom: 20px; #ndn-video-player-2.ndn_embedded .ndn_floatContainer margin-top: 10px; margin-bottom: 20px;
ORANGE—The embezzlement case against Anne Williams stalled Friday in circuit court after she abruptly fired her primary attorney and an associate lawyer quit the case that alleges the misuse of large sums of money intended for the care of animals through the defendant's now nonexistent horse rescue.
Orange County Circuit Court Judge Daniel Bouton issued a stern warning to 58-year-old Williams though saying he was not accusing her of doing anything wrong.
"I don't want you to think you can just go through attorney after attorney after attorney to try and delay, delay and delay the proceedings," the judge said of the three lawyers she went through in the last 16 months. "There will come a time when we have to balance your rights with the need to move this case forward."
Associate attorney Michael Hu Young of Richmond appeared in court Friday ready to argue several defense motions he had drafted for Williams, but instead ended up filing a motion to withdraw as her counsel, which Bouton granted. Young said he rarely quits a case.
"I'm old school—I stay on a case until the final decision," Young said.
In this case, he said his firm asked him to stop representing Williams because of its financial focus and the fact that he has not served as her primary counsel like Alexandria attorney John Zwerling had.
"The problem that led to me firing Mr. Zwerling only occurred last night," Williams said Friday morning, pressed by the judge about why she didn't have an attorney.
Orange attorney Thomas Purcell acted as her original lawyer when she was arrested Oct. 26, 2015, in the separate but related case charging Williams with 27 misdemeanor counts of animal cruelty. In the fall of that year, the Orange County Sheriff's Office reported finding more than 100 horses, cats, dogs and other animals starving, dying, sick or dead at Williams' former animal rescue, Peaceable Farms, in Somerset.
Purcell no longer represents Williams either; she is set to face the animal cruelty charges at trial March 31 in Orange County General District Court.
Williams was rearrested March 28, 2016, on 13 felony counts of embezzlement carrying a maximum sentence of 260 years in the state penitentiary, according to court records. She remains free on $100,000 bond.
Bouton advised her Friday to get a new attorney very quickly, and to establish a good working relationship with that person.
"You are here in circuit court on some very serious charges without an attorney," the judge said, adding, "You certainly have the means to afford counsel."
Bouton ordered her to be back in circuit court April 3 with her new attorney or a letter from the attorney indicating representation, and she agreed that she would.
According to court records, Peaceable Farms started as a federally-recognized nonprofit in 2011 in Barnesville, Maryland "to be operated exclusively for the prevention of cruelty to animals" and as a horse rescue and sanctuary program. Williams, then Anne Goland, was elected president of the board and her then-husband, Anthony Goland, was named secretary and treasurer of Peaceable Farms.
In 2011, contributions to the animal rescue totaled $696,582, according to court records.
In 2012, $1.055 million was donated to Peaceable Farms—including nearly $668,000 given by Anne and Anthony Goland along with various other donors giving as much as $100,000 and lesser amounts in the thousands of dollars, according to court records. Also that year, the horse rescue moved to Orange County, occupying a scenic piece of countryside in Somerset, just off Route 231 neighboring the farm with Virginia's largest corn maze.
Donations to Peaceable Farms reached $1.1 million in 2013, a total that included another $772,000 from the Golands, according to court records, and various other donors making up the difference. By 2014, the organization's total income was $3.7 million, tax records showed.
Court documents from the first three years of Peaceable Farms included detailed logs showing multiple large purchases of hay, feed, veterinary services and various other services associated with running an animal rescue and farm. In at least one tax year, the nonprofit showed balanced expenses and income.
In 2015, Anthony and Anne Goland ended their marriage, the divorce decree made final on July 29 – just a few months before Orange County sheriff's deputies discovered the reportedly deplorable state of Peaceable Farms in what the sheriff described at the time as a case of animal hoarding.
The alleged embezzlement of Peaceable Farms funds occurred between 2012 and 2015—during the defendant's marriage to Anthony Goland—when she reportedly wrote checks for her own use on at least 13 separate occasions, court records said. At that time, Williams had access to more than $5 million, including more than $3 million in donations, according to court records.
Defense motions not argued yet
Following her arrest in 2015, Williams, banned from returning to her Somerset farm and ordered to surrender her passport, went to live with an aunt in Culpeper. She's since lived in Charlottesville and rented a room in a Warrenton motel. According to court records, Williams now lives in Glen Allen.
One of the several defense motions Young had planned to argue Friday involved the motel room and a "confidential" police tip that Williams had allegedly "secreted" one or more cats in it after being court ordered not to acquire anymore animals, according to court records.
Acting on the tip, Orange County Sheriff's Capt. W.O. Hayes went to the motel room in Warrenton on March 31, 2016, three days after Williams was arrested and still in jail.
Motel management informed Hayes that Williams' reservation had expired and they were about to remove all of her items for placement in storage. The sheriff's captain then entered the motel room and viewed three banker's boxes of documents and tax records, according to court records. Later that night, attorney Purcell showed up and paid the motel bill.
The next day, Hayes returned with a search warrant. Court records did not mention the presence of any cats.
Young's motion was to suppress any evidence seized from the motel room, claiming that Hayes made illegal entry. The commonwealth, in a motion to deny the defense motion, argued Williams waived her right to warrantless search and seizure as one of her bail conditions.
Young's motion said she only waived her rights to ensure compliance with those conditions "and not to allow law enforcement officers unfettered access to her motel room or personal belongings to investigate and look for evidence of additional crimes or to trample her 4th amendment rights as they pleased."
Another defense motion Young did not argue Friday was to exclude from evidence at trial any communications Williams had with her husband during their marriage. The commonwealth argued those communications occurred during the alleged embezzlement and therefore are not confidential.
Finally, Young did not argue a third motion seeking to exclude any evidence of animal abuse because it would be "uniquely inflammatory" and is irrelevant to the embezzlement case, according to court records.
The commonwealth, in a motion to deny, said the animal cruelty charges "tend to prove the essential element of wrongful appropriations of funds. Instead of using these funds to care for the animals, the defendant wrongfully used the funds for her own purposes."
#ndn-video-player-3.ndn_embedded .ndn_floatContainer margin-top: 10px; margin-bottom: 20px;