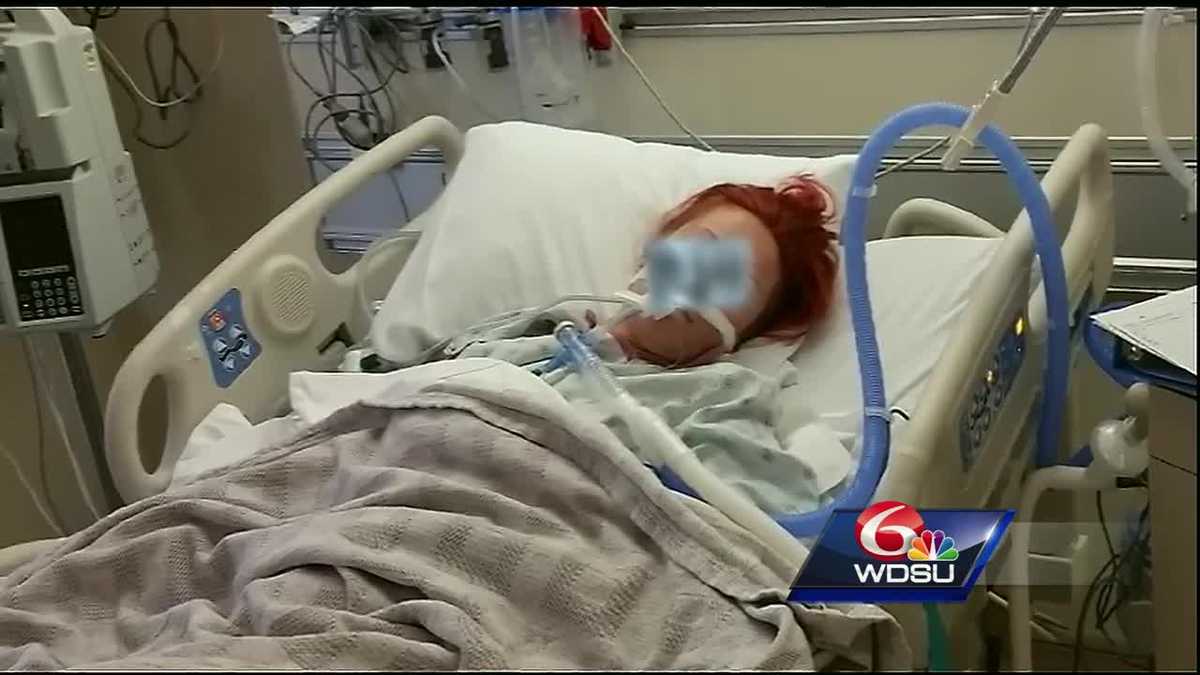 NEW ORLEANS —
An adult dancer is in intensive care and her lawyer is asking for a criminal investigation into the popular club where she works.
Twenty-nine-year-old Maggie Sanchez is a mother and adult dancer, who – up until last month – worked at Visions Men's Club on Downman Road.
She's now hospitalized and in intensive care at Tulane University Hospital.
Family attorney Jason Williams says it all started in September when Sanchez went to work at 8 p.m. on a Friday and never made it home.
At 2 p.m. Saturday, her husband went to Visions looking for his wife.
"He went there with his 15-month-old to find out if there were any clues, and found her in the employee parking lot slumped over the middle console of the car," said Jason Williams, who is representing the family.
Frantic, Williams says the husband screamed for help – but never got it.
"The most troubling part of all this is the security guard did not call 911 because as a rule, they don't want the police or EMS ever coming to their establishment," said Williams.
The lawsuit also alleges the adult club refused to help when it mattered most.
"When the husband was frantically asking for them to call 911 because he couldn't bring his wife to – they said, no, no, no, you should take her to the hospital," said Williams.
The club is lined with surveillance cameras, and this month a civil court judge ordered that all video be preserved, because Williams says Visions has declined to turn any over to them.
The attorney is also asking the district attorney to open a criminal probe into this matter.
"So there are a lot of unknowns, but what's known by everyone, every doctor we talk to, is that if the nightclub had acted sooner – if they had called 911 – she would not be in the condition she's in now," said Williams.
Visions has not responded to us for this report.
WEBVTT LEANS EAST IS TROUBLING. 29-YEAR-OLD MAGGIE SANCHEZ IS A MOTHER AND ADULT DANCER, WHO UP UNTIL LAST MONTH WORKED AT VISION'S MEN;S CLUB ON DOWNMAN ROAD. BUT THIS IS SANCHEZ TODAY HOSPITALIZED AND STILL IN , INTENSIVE CARE. FAMILY ATTORNEY JASON WILLIAMS SAYS IT ALL STARTED IN SEPTEMBER, WHEN SANCHEZ WENT TO WORK AT 8:00 PM ON A FRIDAY AND NEVER MADE IT HOME. SO AT 2:00 PM SATURDAY, HER HUSBAND WENT TO VISION'S LOOKING FOR HER. >> HE WENT THERE TO FIND OUT IF THERE WERE ANY CLUES AND FOUND HER IN THE EMPLOYEE PARKING LOT SLUMPED OVER THE MIDDLE CONSOLE OF THE CAR. TRAVERS: FRANTIC, WILLIAMS SAYS THE HUSBAND SCREAMED FOR HELP >> THE MOST TROUBLING PART ABOUT ALL THIS IS THE FACT THAT THE SECURITY GUARD SAID THEY DID NOT CALL 911 BECAUSE THERE IS A RULE THEY DON'T WANT TO LEASE OR EMS EVER COMING TO THEIR ESTABLISHMENT. TRAVERS: THE LAWSUIT ALSO ALLEGES THE ADULT CLUB REFUSED TO HELP, WHEN IT MATTERED MOST. >> WHEN HE WAS FRIGHTENINGLY ASKING THEM TO CALL 911 AT THIS MOMENT, THEY SAID YOU SHOULD TAKE HER TO THE HOSPITAL. TRAVERS: THE CLUB IS LINED WITH SURVEILLANCE CAMERAS, AND THIS MONTH A CIVIL COURT JUDGE ORDERED THAT ALL VIDEO BE PRESERVED, BECAUSE WILLIAMS SAYS VISION;S HAS DECLINED TO TURN ANY OVER TO THEM. THE ATTORNEY IS ALSO ASKING THE DISTRICT ATTORNEY TO OPEN A CRIMINAL PROBE INTO THIS MATTE >> THERE ARE A LOT OF UNKNOWNS. WHAT IS KNOWN BY EVERY SINGLE DOCTOR AND MEDICAL PERSONNEL THAT HAVE SEEN HER SO FAR, THEY SAID IF THE NIGHTCLUB HAD GOTTEN HER TO THE HOSPITAL SOONER, IF